Oliver Street up for discussion in North Tonawanda
published on Monday, April 13th, 2015
NORTH TONAWANDA: Lumber City Development Corporation hosting meetings April 23 and 28.
Print

Font Size: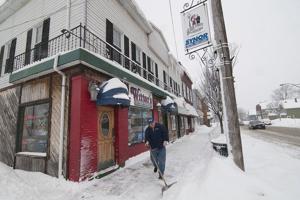 City officials hope to give Oliver Street a boost with Main Street grant
James Neiss/staff photographerPeter Witt, owner of Witter's Sports Bar, said he hopes more businesses on Oliver Street take advantage of the Lumber City Development Grant. This spring the business will redo its facade, get new awnings, a new clock, a new sign, new windows and doors.
Posted: Sunday, April 12, 2015 3:00 am
With efforts to revive the downtown area of North Tonawanda beginning to pay off, residents are now calling for the focus to be shifted toward Oliver Street.
Those living in the city say it's been decades since the street was in its prime. To help with that goal, the Lumber City Development Corporation will hold a series of community meetings so the public can take the opportunity to make their voices heard.
"The focus has been on downtown and Webster Street for so long and it was just time to kind of switch gears," said Laura Bernsohn, planning and development specialist for the Lumber City Development Corporation. "Oliver Street is an area in need, we want to do everything we can to revitalize it, make it a good place to live and work and provide essential goods and services to residents."
Efforts to bring some beauty back to Oliver Street are already under way. Presently the city is working with a grant which will cover the work needed to provide several buildings between Schecnk and Wheatfield streets with updates to their facades. However, the grant only provides funds for that specific project.
While several area business owners and residents have attempted to contribute to the betterment of Oliver Street on their own, they need the help of the city to bring about more positive changes. Natalie Brown, owner of Project 308 Gallery, said she's happy to see the initiative being taken to bring some life back into the community and thinks that many of her neighbors are also ready for a change.
"I think an annual neighborhood clean-up in the spring would be good," Brown said. "An effort to plant more trees and community gardens is a good way to bring people together, and of course more public art can be a great way to boost the street's appearance."
Bernsohn said right now the part of Oliver Street her organization feels needs the most attention is the stretch between Schenck Street and 5th Avenue. The purpose of the meetings is to determine what the community would like to see improve in their area. Personally she said she'd like see the street made more walkable.
Lumber City Development Corporation Executive Director Michael Zimmerman said his organization has already heard a lot about the physical flaws of the area, like unattractive buildings or poorly maintained streets, but he'd like to do more than just make Oliver Street easier on the eyes. He wants to focus on bringing business into the area.
"What we want to do is kind of identify what types of business that this neighborhood, in particular, needs and would support," he said. "Maybe it's a pharmacy or a laundromat. What (residents) need and want to be a customer of gives us a lot of ammunition to go look for those businesses, or when they approach us we could say, 'this is where we need you, this is where you'd do best."
Cathy Brachmann, President of Dom Polski Club, as well as an Oliver Street homeowner, said she thinks it's a great idea to get people together to talk about the problems they've been experiencing. She feels that much of the problem lies absentee landlords who don't take care of their buildings, which adds a negative look to the street, but also attracts the wrong sort of neighbors.
She also noted that past efforts to improve Oliver have been applied to the area south of where her home and business are located. She said she would like to see some of that momentum move north.
"I'd really like to see this take off," Brachmann said. "I know we'll never get rid of all the trash, but we can do the best we can. Cosmetically everyone needs a little facelift."
Zimmerman noted that the big goal for these meetings is to learn directly from the residents what problems they have with their neighborhood and take that information back to city hall. Residents will have two chances to participate, from 5:30 to 7:30 p.m. April 23 and 28 at Dom Polski, 576 Oliver St.
"We really want to identify and get involved with people who are interested in taking some charge in their own community," Zimmerman said. "Whatever form that will be in, we want people to want to get involved."